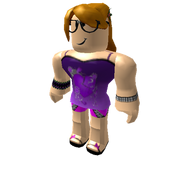 Cardudet2001 was a character made for Cardude2001's April Fools 2013 video. She sooner became a short lasting character in his videos, and basically faded away.
She appeared in 2 videos which were an Egg Hunt Guide 2013 and a ROBLOX London video.
She was in the Cardude2001 logo for while, until the channel art changed.
She was the first feminine main character on the channel.
Her look changed once; from the Pinktastic Hair to the Holly Hair.