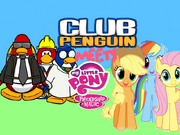 This is an article about a deleted movie.
Club Penguin (CP) Meets My Little Pony: Friendship is Magic (MLP: FiM) is a movie by Cardude2001 when the game Club Penguin meets the famed television show, My Little Pony: Friendship is Magic. This video was deleted in October 2014.
Inspiration
Edit
This non-professional, yet big, movie didn't just come out of the blue. It actually had inspiration. Lots of people wanted this kind of video to come out, so Cardude decided to make it.
Characters
Edit
The characters aren't random characters. They are Cardude2001 characters and MLP characters.
Living Sled
Jet Pack Guy
Rookie
MLP Main Characters
NOTE: First part is misleading on how the movie really flows, so don't judge the movie by it.