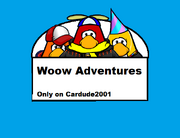 Woow Adventures is a series, featuring Woow50000. It has a class.
TheBoarder101 History
Edit
TheBoarder101 was first called Doosh, but then her name was changed, because it sounded to much like the word, deuce.
Song History
Edit
After watching lots of television with music, Cardude though how nobody eve rmade Club Penguin songs. That is when a big idea hit him, metaphorically. Why not make Club Penguin songs? The whole thing started on the episode, Portals R Us. From then on, almost every episode had songs.
Episode 1 (Introduction)
Edit
An introduction if the series, showing all of the personalities of the class.
Woow50000 and Ding fight on Youtube.
In this episode, Ding drops out and goes on, destroying Club Penguin, in order to show out her anger.
For Valentines day, Woow50000, Hoho77527, and Epic1337 sell chocolate against the girls, because Hoho77527 agreed about the contest.
Green paint in in the air, and the class thinks that it may be a zombie infection, when it is just green paint.
Ding likes the idea of Earth hour, so decides to blackout the whole island, making no light for anybody, and that's not only electricity. She puts out all of the light, including fires.
Episode 7 (April Fools Day)
Edit
The class enjoy April Fools day, and prank each other, but does all the pranking go too far? Obviously no, because people can prank those pranks.
This is the first Episode to be the longest. It is when Club Penguin competes in a big event, with prizes.
Episode 9 (Woowsynthesis)
Edit
Slurpee destroys the school's students' plant's, to win a plant contest, while Woow50000 finds out, and helps everybody.
Episode 10 (The Meeting)
Edit
Woow50000 finds out about the girls' meeting, and decides to sneak up on the meeting to spy on them.
Episode 11 (Portals R Us)
Edit
A portal machine sends out tons of portals, so Woow50000, Hoho77527, and Epic1337 try to fix it.
---
SONG LYRICS
Edit
Portals R Us (x3)
Portals R Us, you got to escape
There's too many portals
Causing tragaties
They're helping some people.
Don't you see?
There's too many portals...
to deal with
Too many portals
oh ya
Woow50000 is trying to fix it.
Epic1337
and Hoho77527 too
yeah
Portals R Us
Portals R Us
Portals are completely gonna be us.
Portals R Us
Portals R Us
Portals are completely and totally gonna be us.
Woow50000 tells the viewers some Woow Adventures trivia.
Episode 13 (The Musical)
Edit
Woow50000 finds out that Ding destroyed Club Penguin, and needs to save CP from her dictatorship.
---
Epic Rap Battles of Penguinity
Ding steals the entire class, and Woow needs to save them
Episode 15 (Woow Powered Sleigh)
Edit
Santa crashed after being hit with a missle, and only Epic1337, Woow50000, Hoho77527, and Woow50002 can save Christmas.
Episode 16 (Valentines Day Trouble)
Edit
Bunny goes way too far on Valentines Day, and Woow goes crazy.
Episode 17 (Slender)
Edit
Woow50000 meets the slenderman, and the only way to save himself from being killed is by annoying him alot.
Episode 18 (Valentines Day Flashback)
Edit
After Valentines day, Woow50000 and Hoho77527 flashback.
Thumbnails
Edit
These are the thumbnails for the episodes.